Sabancı University Industrial Engineering Graduate Program has been offering both M.Sc. and Ph.D. degrees for almost two decades. As the members of this program, we welcome all prospective students who would like to be a part of a reputable graduate program in industrial engineering and operations research. Our program is fully committed to support and supervise all enthusiastic graduate students. We especially encourage the individuals who like to take initiative and come up with new ideas.
In this page, you can find information about various aspects of being a student in our program. If you have any further questions, please contact our graduate student adviser İlker Birbil.
1.

Financial Aid

Currently, all graduate students in our program receive a financial aid. Some of these students are supported by the university as research assistants. The others are supported through research projects. The scholarships include monthly stipend and tuition waiver. All our students are also eligible for the graduate student housing in the campus. Most students share a room with another graduate student. There are also a few single-occupancy rooms.

2.

Research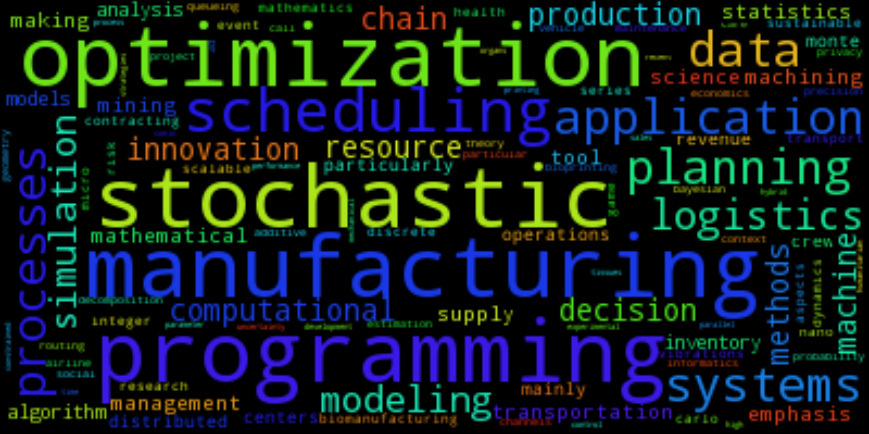 The members of our program conduct cutting edge research in algorithm development, stochastic programming, decision analysis, large-scale optimization, production planning, simulation, supply chain management, high performance machining and manufacturing design.
Our faculty members collaborate with many researchers around the world. This gives us a chance to expose our graduate students to other research institutions and help them build their own networks. We also have weekly seminars, where we invite scientists to present their research. During these seminars, the students find a chance to get acquainted with the speakers.
Here is a list of faculty members and their research areas
Ali Rana Atılgan: Computational Social Science


Ali Rana Atılgan

Applications

Managing refugee crises in Europe; How the social networking changes the way people cooperatively behave

Ali Rana Atılgan

Projects

Diffusion of social norms, social cohesion, and collective action in ethnically diverse neighborhoods

Bahattin Koç: Additive Manufacturing (3D Printing), Biomanufacturing, Bioprinting Of Tissues And Organs, Nano-Micro Hybrid Manufacturing, Computational Geometry For Manufacturing.


Bahattin Koç

Projects

Modeling and 3D bioprinting of hybrid live cell and biomaterial structures for vascular tissue engineering

Abstract: The main aim of this project is to 3D bioprint live cell aggregates with biomaterials support structures in vascular tissue engineering. In addition, 3D bioprinting tool path planning and parameters are optimized based on the cell proliferation, morphology, autophagy and cell stress analyses. With this proposed work, the following novel methods will be developed: i) new computer aided algorithms will be developed to model and 3D print multi-cellular aggregates and their support structures with biomaterials (hydrogels), ii) a novel multi-nozzle 3D bioprinter will be developed to fabricate the hybrid live cell support structures directly from the computer-aided design (CAD) models, iii) analyzing the biofabricated structures for cell aggregate fusion, cell morphology, autophagy and cell stresses, iv) optimizing 3D bioprinting topology (path planning) and bioprinting parameters. These novel ideas will advance the science and research in computer-aided tissue engineering.

Computational model-informed strategies for the biomanufacturing of 3D patterned constructs for the treatment of large, non-healing bone defects

In this novel collaborative research project, computational model-informed strategies to design 3D patterned constructs and subsequent biomanufacturing of the optimized constructs are proposed for the treatment of large, non-healing bone defects. We hypothesize that TE constructs characterized by controlled spatial patterns of cells, growth factors and matrix densities will enhance the healing of large bone defects. First, a multi-scale computational model of bone regeneration, developed at KU Leuven will be used to design 3D patterned constructs that should enhance the healing of large, non-healing bone defects. The modeled and optimized 3D patterned constructs will then be biomanufactured using fabrication techniques developed at Sabanci University.

Additive Manufacturing of Multifunctional Nano-composite Structures

In this project, our aim is to develop 3D multi-functional structures made out of spatially changing nano-composites using 3D printing technologies by optimizing the structures design, developing path planning algorithms and 3D printing of these structures directly from their optimum designs. Therefore, we will i) develop computer-aided algorithms to model multi-functional structures from base polymer and its nano-composites, ii) develop tool-path planning algorithms for 3D printing of the designs, iii) develop new 3D printing technologies for manufacturing of these multifunctional structures.

3D Coaxial Elecrohydrodynamic Printing of Multifunctional Scaffolds for Wound Healing and Skin Regeneration

The objective is this research plan is to develop a novel multifunctional "active" scaffolds with controlled micro-architecture and material composition using the proposed three-dimensional (3D) electrohydrodynamic coaxial bioprinting device. Computational algorithms will be developed to design such active scaffolds based on the proposed electrohydrodynamic process parameters. The proposed active scaffold with the required mechanical and biological properties will be fabricated by optimizing the composition of the composite coaxial biomaterials. Novel computer aided algorithms will be developed to model 3D scaffolds based on wound geometry and by mimicking wound healing process. The proposed computational algorithms will then be used to calculate optimum 3D bioprinting topologies. The developed multifunctional scaffolds will be tested for their biocompatibility and biodegradation using in-vitro cytotoxicity and animal studies. The results from these studies will be used to further optimize the process and biomaterial parameters.

Barış Balcıoğlu: Stochastic Models, Analysis Of Queueing Systems, Discrete Event Simulation, Production/Inventory Systems, Call Centers, Simulation


Barış Balcıoğlu

Applications

The application areas of my research efforts are wide: In production/inventory systems random demand and random production times may lead to customers waiting for their orders to be completed for random lengths of periods. The company may need to dynamically prioritize customers, make decision on how to make use of remaining inventory in order to improve its profitability and/or other service performance measures. In customer contact centers, the varying random phone calls may surpass the volume of available agents from time to time. Determining the optimal number of agents and generating their schedules become crucial goals along with policies that guide in selection of the the next customer to serve. The computer networks where data packets need be processed or health facilities where patients need to wait to access doctors, surgery rooms, etc. also present similar challenges.

Barış Balcıoğlu

Projects

Currently, I am interested in implementing dynamic pricing schemes in production/inventory systems to combat the degrading effects of production time variability. Increasing or decreasing the price of a product considering workload at the production facility may help the company reap more profit than that it would obtain when a static pricing scheme is followed. In customer contact centers, I would like to introduce the call-back option for customers that wait on the line. If customers accept this option, within a given period of time, call centers call the customer back. This may increase the customer satisfaction, decrease the loss of customers who become inpatient while waiting on the line, can decrease the stress on agents.

Bülent Çatay: Transportation And Logistics, Mainly Sustainable Transport Planning And Vehicle Routing.


Bülent Çatay

Applications

Vehicle routing and scheduling is at the core of first-mile and last-mile logistics operations. Within this context, companies seek better planning practices to improve their energy efficiency and reduce their carbon footprint. The environmental concerns encourage the usage of electric vehicles since they provide zero-emission transportation. On the other hand, these vehicles bring new challenges and additional complexities related with range anxiety, total cost of ownership, and operational costs. New models and solutions methods are needed to make better decisions on fleet sizing, determining where, when and how much to recharge them and using which technologies in addition to regular routing decisions.

Bülent Çatay

Projects

A project proposal was recently submitted to foster cooperation among research partners from Latin American and European countries to develop new knowledge to make decisions concerning urban mobility of people and distribution of goods, paying particular interest to aspects which influence the human wellness. The group will develop methodologies for planning and operating urban logistic systems, based on mathematical models, computational solution methods and information technologies. Examples of the problems to be addressed include the planning of distribution networks (e.g. transit or delivery routes) and the design of methods to use/operate such networks (e.g. routing of people through a city). The models should consider aspects like environmental impacts in noise, congestion and pollutant emissions (externalities).

Erhan Budak: Machining processes and machine tools, high performance and precision machining, machine tool dynamics, process modeling and simulation, mechanical vibrations


Erhan Budak

Applications

Machining processes are widely used various industries such as automotive, aerospace, machinery, energy, die and mold, medical etc. for manufacturing of parts made out of various materials with different sizes.

Erhan Budak

Projects

All of the projects involve experimental work as well as analytical modeling and simulations using numerical solutions.

Simualtaneous machining operations
Alternative cooling methods in machining
Super Abrasive Machining (SAM)
Machine tool design optimization for higher accuracy (reduced thermal deformations and higher rigidity) and faster response
Optimal milling tool design for improved performance
Stability of multi purpose machining processes
Thermal modeling of cutting processes

Esra Koca: Production Planning And Logistics, Integer Programming, Conic Optimization, Stochastic Optimization


Esra Koca

Applications

Lot sizing is one of the core problems in production planning. This problem may also be encountered in many real life procurement and transportation systems. Moreover, the problem can be modeled as a special case of network design problems. Therefore, the problem has both practical and theoretical importance.

Esra Koca

Projects

Abstracts of those current/prospectus projects that new-coming students can take part in (Those projects need not be formal granted ones, but they rather refer to your research topics on your mind).

The interest in environmental issues has grown in the last few decades. Recently, various researchers have studied green lot sizing problems with different carbon emission constraints. This problem may be further studied by introducing new carbon emission constraints, and different formulations (and solution techniques) may be developed to solve this problem.

Gündüz Ulusoy: Innovation And Manufacturing Strategies, Resource Constrained Machine And Project Scheduling


Gündüz Ulusoy

Applications

It is employed in projects for increasing the competitiveness of manufacturing firms - a popular theme for consulting firms.

Among others it is employed in make-to-order production planning particularly in the area of capital investment goods.

Gündüz Ulusoy

Projects

It is part of a large project proposal focusing on these aspects of competitiveness in Small and Medium Enterprises. The project will deal among others on the determinants as well as the measurement of competitiveness. Software, machine building, and furniture manufacturing sectors will be investigated and compared on the basis of the determinants and other factors leading to possibly different competitiveness strategies for each sector. Besides innovation and manufacturing strategies the project will deal with social networks, clusters and other means of collaboration among firms and business models.

Developing methods for make-to-order production planning based on a real case from industry.

Güvenç Şahin: Scheduling And Resources Planning In Transportation


Güvenç Şahin

Applications

In large transportation systems such as railways, airlines and urban transportation networks, two planning problems are of core interest:

scheduling the timetables, and
allocation of critical resources such as vehicles, equipment and workforce.

These planning problems should be solved optimally in order to efficiently deploy all resources and meet the demand for services.

Güvenç Şahin

Projects

The literature in this area grows continuously as transportation systems of different modes in various regions/countries are subject to different needs and managed by a variety of regulations and laws. In the past, we have focused on crew planning problems in airlines and railways. Our current research focuses on demand-driven planning and allocation of resources for congested urban transportation systems in highly metropolitan areas.

Hans Frenk: Mathematics Of Operations Research, Stochastic Processes, Optimization, Stochastic Optimization Applications, Revenue Management, Maintenance, Inventory Control


Hans Frenk

Applications

How to set your policy of accepting customer in order to improve profits in airline industry.

Efficient management of cost of inventories and service levels to customers.

Optimization of stochastic systems and its applications to Operations research and Management Operations

present applications topics focused on: Model in a realistic way problems in Revenue Management and Inventory Control and use available theory to solve these problems.

Theoretical topics. Renewal theory, Regenerative Processes and increasing Levy Processes, Applications of martingale theory, Stochastic dynamic programming,. Nonlinear programming and Convex Analysis.

Hans Frenk

Projects

Any applied type of topic with a stochastic background which can be modeled properly and analyzed. Improvement of well accepted models in established application fields. Main focus: Revenue management, Joınt replenishment problem and related inventory problems and stochastic models in maintenance.

İlker Birbil: Mathematical Programming, Algorithm Development, Parallel And Distributed Optimization, Data Science.


İlker Birbil

Applications

Larges-scale optimization for machine learning; multi-agent global optimization; revenue management; large-scale linear programs with column-dependent-rows; combination of exact methods with heuristics for combinatorial optimization.

İlker Birbil

Projects

Advanced Parallel Optimization Algorithms for Big Data Analysis Using Machine Learning (TUBITAK 1001 Project); Solving Optimization Problems with Separable Convex Objective Functions Arising in Electricity Transmission Networks by Column and Row Generation (COST Action TD1207)

Kemal Kılıç: Data Mining And Application Of Data Mining In Decision Making Particularly In The Context Of Health Care Informatics And Innovation Management.


Kemal Kılıç

Applications

A decision support system for fraud detection in health care insurance systems
Dynamic risk assessment management in health care management systems
A contract management system for health care insurance companies
A data mining based decision support tool that determines technical and nontechnical loss in energy distribution networks
A decision support tool for developing innovation policies

Kemal Kılıç

Projects

Determinants of Firm Level Competitiveness:

"What are the internal and external drivers that influence the competitiveness of companies?" is the major research question that will be investigated under this title. Empirical survey based research will also allow to evaluate the relative significance of these determinants and as a result a decision support tool will be developed that might be helpful for strategic level decision makers.

Validation of Multi Criteria Decision Making Techniques

Many techniques are developed as a tool for multi Criteria decision making problems with the intention of assisting the human decision making process. However, these techniques do not capture the behavioral biases of humans but rather their theoretical framework assumes a rational thinking. This research will try to evaluate the performance of these techniques in real life as a tool for assisting so-called irrational decision makers, i.e., humans.

Feature Weighting

Not only lack or relevant features, but also abundance of irrelevant features in data directly influences the performance of the data mining process because those irrelevant or relative less important features curtain the relations in data. Therefore feature subset selection and/or feature weighting is the most significant step of data mining phase. In this project methodological improvements are considered for this problem.

Kerem Bülbül: Modeling And Analysis Of Scheduling Systems -- With A Recent Emphasis On Stochastic Aspects, Mathematical Programming And Computational Optimization With An Emphasis On Decomposition Methods, Airline Crew Scheduling


Kerem Bülbül

Applications

My broad area of interest and expertise is in combinatorial optimization problems amenable to solution via mathematical programming techniques -- in particular via column generation, Benders decomposition, or Lagrangian relaxation. The majority of my research papers employ one or several of these tools. The applications range from machine scheduling to airline crew planning problems, and to optimization problems in wireless ad hoc networks. A recent theme in my work is incorporating uncertainty into these problems by using stochastic programming techniques, allowing for closer approximations of the reality. The ultimate focus is always on methods and algorithms that are viable in practice. Computational aspects and efficient implementations are therefore a major concern in what we do with my students and colleagues.

Kerem Bülbül

Projects

Resource allocation and scheduling problems on the cloud:

Concurrency, parallelism, feasibility of preemption and task migration are just some of the many aspects of the resource allocation and scheduling problems faced by cloud companies in their data center operations. One major goal of this project is to identify novel, interesting, and relevant problems confronting a typical data center which needs to ensure a certain customer service level while also minimizing the operational costs and the energy footprint. These problems are then to be formulated and solved via mathematical programming techniques, including stochastic programming.

Murat Kaya: Supply Chain Contracting, Sales Channels Management, Game Theory And Experimental Economics Applications In Supply Chain Management


Murat Kaya

Applications

The goal of this research is to understand factors that affect managerial decision making in strategic supply chain decisions. The findings have implications on the design of incentive systems, decision support systems, management information systems and supply chain contracts.

Murat Kaya

Projects

Behavioral Experiments on Supply Chain Contracting.

We conduct computerized decision making experiments with human subjects. We analyze experimental data and develop models to explain deviations from analytical predictions.

The goal of this research is to understand factors that affect managerial decision making in strategic supply chain decisions. The findings have implications on the design of incentive systems, decision support systems, management information systems and supply chain contracts Modeling Generation Company Interactions in Power Markets

Modeling Generation Company Interactions in Power Markets

Design of power markets has become an important practice and research area following recent deregulation and privatization waves. Our findings in this research stream can help power companies develop more effective bidding strategies. In addition, the findings can help governments design more efficient power markets, leading to lower cost electricity generation and increase in public welfare. Allowing what-if scenario analyses, such simulation models can be used as a "wind tunnels" to test the effects of policy proposals on market players.

Nilay Noyan: Decision Making Under Uncertainty, Optimization, Stochastic Programming, Risk Modeling, And Stochastic Optimization Applications (In Particular, Humanitarian Logistics).


Nilay Noyan

Applications

Stochastic programming approaches and solution methods can be applied to a wide range of decision making problems in a variety of areas, including financial planning, humanitarian logistics, production scheduling, facility location, electrical power system design, and homeland security budget allocation. In particular, Dr. Noyan has been working on humanitarian relief network design, sustainable urban transportation, and airline revenue management.

Nilay Noyan

Projects

Chance-Constrained Stochastic Programming:

For many decision making problems, it is crucial to consider the inherent uncertainty and develop risk-averse optimization models. For example, in the chaotic post-disaster environment, there is significant uncertainty in factors affecting the structure of a relief distribution network. It is essential to develop decision making models incorporating the inherent uncertainty in an effective way for ensuring a successful disaster response.

As part of our ongoing work, we intend to introduce a new class of chance-constrained two-stage stochastic programs, which can be applied to relief network design, and develop decomposition-based solution algorithms.

Robust Risk-Averse Stochastic Programming Models For Multicriteria Decision Making Problems,

TUBITAK 1001 Project (115M560):

For many decision making problems under uncertainty, it is essential to take into account decision makers' risk preferences and specify the preferences based on multiple stochastic performance measures/criteria. Such decision making problems arise in a wide range of areas, including humanitarian logistics, homeland security budget allocation, and financial management. In the scope of this project, we intend to study various risk-averse optimization models for multicriteria decision making problems and develop associated effective solution methods. In such problems, finding best decisions requires specifying preference relations among vector-valued random variables, where each dimension of a vector corresponds to a decision criterion. In this respect, we consider the multivariate preference relations primarily based on the risk measure called ``conditional value-at-risk - (CVaR)''; such relations provide a higher flexibility to express decision makers' risk preferences and allow us to represent a wider range of views.

Semih Onur Sezer: Probability, Statistics, Stochastic Processes, Stochastic Optimization


Semih Onur Sezer

Applications

Application areas include, but not limited to, revenue management and pricing, inventory management, valuation and hedging of financial instruments.

Sinan Yıldırım: Bayesian Statistics, Monte Carlo Methods, Parameter Estimation, Time Series Models, Data Privacy, Scalable Algorithms


Sinan Yıldırım

Applications

Applications of my research cover stochastic systems where one can not obtain close form solutions and hence has to resort to numerical approximations. These systems are encountered in many fields from engineering (e.g. target tracking, signal processing, optimisation) to biological science (e.g. genome analysis). Big data analysis and privacy preserving data analysis have also been increasingly relevant to my research.

Sinan Yıldırım

Projects

The projects I am currently in are as follows:

Making Monte Chain Monte Carlo more efficient with parallelizable computations
A new Monte Carlo algorithm for parameter estimation in state-space models
Combining Monte Carlo with Data Privacy
Simulation based approaches for origin-destination matrix estimation

Tonguç Ünlüyurt: Applications of Combinatorial Optimization, Sequential Testing


Tonguç Ünlüyurt

Applications

In logistics, manufacturing, telecommunications and reliability systems,

Tonguç Ünlüyurt

Projects

Fault localization in failed systems with the minimum expected total cost: When a complicated system fails, it is important to find the reason of failure as cheaply (quick) as possible. One needs to find efficient strategies to do this and different assumptions regarding the system function, the tests, feasibility, objective function lead to different research problems.

Pickup network design: A new area that we started looking into
3.

Teaching Load

Every student in our program is expected to assist undergraduate courses. Although it very much depends on the course, in general, a graduate student spends, on average, 10 to 15 hours a week for teaching. This includes problem solving sessions (2 hours), preparation for the recitation (3-4 hours), office hours (2-3 hours), grading (2-3 hours), responding to messages (1-3 hours).
4.

Conference Participation
5.

Research Visits (Pre-Doctoral Study)

While pursuing their Ph.D. degree, our doctoral students have a chance to visit another institution for one semester. They work with other scientists and extend their research network. These visits are also supported partly by the university and partly by The Scientific and Technological Research Council of Turkey and European Research Council. There could also be funding opportunities through the hosting institution.

In the past, our students had visited the these institutions for their pre-doctoral study.
Bologna University, Italy
Cornell University, USA
Northwestern University, USA
Southampton University, UK
Wayne State University, USA
Ohio State University, USA
6.

Alumni

All our past graduate students are holding positions in various places around the world. Some of our graduates are professors or Ph.D. students at national and international universities. The others are working for the industry around the world.

Here is our alumni list along with their current employment.
Graduate Alumni
PhD
2015
Seyed Ahmad Hosseini, PhD
Multi-Period Multi-Product Distribution Planning Problems: Model Based and Network Based Approaches
Thesis Advisor: Tonguç Ünlüyurt, Güvenç Şahin
Current Position: Post-doctoral researcher at Umea University, Sweden

Halil Şen, PhD
Cut Generation Based Algorithms for Unrelated Parallel Machine Scheduling Problems
Thesis Advisor: Kerem Bülbül
Current position: Postdoctoral researcher in the ReAlOpt team of INRIA Bordeaux – Sud-Ouest in France.

2014
Nurşen Aydin, PhD
New Capacity allocation problems in revenue management
Thesis Advisor: İlker Birbil
Current Position: Assistant Prof. at Warwick Business School in Management Science & Operations Research Group

Belma Yelbay, PhD
Minimum Hub Cover Problem: Solution Methods & Applications
Thesis Advisor: Kerem Bülbül, İlker Birbil
Current position: Solutions Architect for Hitit Computer Services in Istanbul, and part-time instructor at Bilgi University

Umman Mahir Yıldırım, PhD
New Approaches for Determining Greenest Paths and Efficient Vehicle Routes on Transportation Networks
Thesis Advisor: Bülent Çatay
Current Position: Postdoctoral Researcher, Eindhoven University of Technology, Netherlands.

2011
İbrahim Muter, PhD
Simultaneous column-and-row generation for solving large-scale linear programs with column-dependent-rows
Thesis Advisor: İlker Birbil
Current position: Associate Professor of Industrial Engineering at Bahçeşehir University

Figen Öztoprak
Parallel Algorithms for Nonlinear Optimization
Thesis advisor: İlker Birbil
Current position: Assistant Professor of Industrial Engineering at Bilgi University

2010
Erdem Öztürk, PhD, 2010
Modeling Dynamics of Multi Axis Machining Processes
Thesis Advisor: Erhan Budak
Current position: Technology Fellow- Machining Group, Advanced Manufacturing Research Center, University of Sheffield, UK

2008
Emre Özlü, PhD, 2008
Analytical Modeling of Cutting Process Mechanics and Dynamics for Simulation of Industrial Machining Operations
Thesis Advisor: Erhan Budak
Current position: General Manager, Maxima Manufacturing R&D, GOSB Teknopark, Gebze, Kocaeli, Turkey

Taner Tunc, PhD, 2008
Development of Analytical Methods for Strategy Selection and Process Optimization in Multi-Axis Machining Applications
Thesis Advisor: Erhan Budak
Current position: Nuclear Advanced Manufactruing Research Center, University of Sheffield, UK

MSc
2014
Deniz Aslan, MSc
Modeling of grinding process mechanics
Thesis Advisor: Erhan Budak

Burcu Atay, MSc
An MDO exercise using response surface methodology: optimal shape and composite structure of a wing for optimal range
Thesis Advisor: Melih Papila

Deniz Beşik, MSc
Solving large-scale transmission network problems
Thesis Advisor: İlker Birbil

Ceren Çelebi, MSc
Experimental investigation and force modeling of orthogonal cutting with the effect of third deformation zone
Thesis Advisor: Erhan Budak

Gürkan Işık, MSc
Sequential testing of series parallel systems
Thesis Advisor: Tonguç Ünlüyurt

Merve Keskin, MSc
An adaptive large neighborhood search approach for solving the electric vehicle routing problem with time windows
Thesis Advisor: Bülent Çatay

Fikri Küçüksayacıgil, MSc
Use of genetic algorithms in multi-objective multi-project resource constrained project scheduling
Thesis Advisor: Gündüz Ulusoy

Berk Özel, MSc
The effects of redundancy and information manipulation on traffic networks
Thesis Advisor: Ali Rana Atılgan

Aybike Ulusan, MSc
Column generation algorithms for airline network revenue management problems
Thesis Advisor: İlker Birbil

Gökçe Kahvecioğlu, MSc
Stochastic Last Mile Relief Network Design with Resource Reallocation
Thesis Advisor: Nilay Noyan

2013
Alptunç Çomak, MSc
Dynamics and chatter stability of multi delay machining systems
Thesis Advisor: Erhan Budak

Utku Olgun, MSc
Experimental investigation of rotary turning processes for metal alloys
Thesis Advisor: Erhan Budak

Selma Yılmaz, MSc
Hydrostatic yaw bearing design for 500 kW horizontal axis wind turbine
Thesis Advisor: Mahmut Faruk Akşit

2012
Alp Muzaffer Arslan, MSc
On the optimal control problem for single leg airline revenue management with overbooking
Thesis Advisor: Semih Onur Sezer, Hans Frenk

Semih Atakan, MSc
Minimizing value-at-risk in single machine scheduling problems
Thesis Advisor: Nilay Noyan, Kerem Bülbül

Soner Beyhan, MSc
A column generation algorithm for robust gate assignment problems
Thesis Advisor: Dilek Tüzün Aksu, Güvenç Şahin

Ali Çetin Suyabatmaz, MSc
Railway crew capacity planning problem with connectmty considerations in pairings
Thesis Advisor: Güvenç Şahin

Birce Tezel, MSc
Open loop policies for single-leg air-cargo revenue
Thesis Advisor: Hans Frenk, Nilay Noyan

2011
Volkan Aran, MSc
Analysis on micro milling dynamics and stability
Thesis Advisor: Erhan Budak

Gizem Çavuşlar, MSc
A Tabu search approach for the nuclear magnetic resonance protein structure based assignment problem
Thesis Advisor: Serkan Mehmet Apaydın, Bülent Çatay

Elif Özdemir, MSc
Testing strategies for k-out-of-n systems precedence constraints
Thesis Advisor: Tonguç Ünlüyurt

Mehmet Berke Pamay, MSc
A linear programming based method for the resource constrained multiproject scheduling problem with weighted earliness/tardiness costs
Thesis Advisor: Gündüz Ulusoy, Kerem Bülbül

Mustafa Şahin, MSc
Multi-vehicle one-to-one pickup and delivery problem with split loads
Thesis Advisor: Güvenç Şahin

Nükte Şahin, MSc
Experiments on supply chain contracting: effects of contract type and relationship length
Thesis Advisor: Murat Kaya

Arda Emre Şişbot, MSc
Multi-project scheduling under mode duration uncertainties
Thesis Advisor: Can Akkan, Gündüz Ulusoy

Ayşegül Tizer, MSc
Decision-making experiments on dual sales channel coordination
Thesis Advisor: Murat Kaya

Yasir Tunçer, MSc
Estimating the performance of EMS location models via simulation
Thesis Advisor: Tonguç Ünlüyurt

Ezgi Yıldız, MSc
Multi-depot vehicle scheduling with disruptions
Thesis Advisor: İlker Birbil

2010
Nimet Aksoy, MSc
Pricing by local search in column generation for the airline crew pairing problem
Thesis Advisor: Kerem Bülbül, İlker Birbil

Selin Erçil, MSc
On increasing (non) stationary levy processes: an easy approach using renewal processes
Thesis Advisor: Hans Frenk

Ceyda Sol, MSc
Identification of disease related significant SNPs
Thesis Advisor: Uğur Sezerman, Nilay Noyan

Halil Şen, MSc
A simple, fast, and effective heuristic for the single-machine total weighted tardiness problem
Thesis Advisor: Kerem Bülbül

Semih Yalçındağ, MSc
Modeling sustainable traffic assignment policies with emission functions and travel time reliability
Thesis Advisor: Nilay Noyan

Belma Yelbay, MSc
Primal-dual heuristics for solving the set covering problem
Thesis Advisor: Kerem Bülbül, İlker Birbil

2009
Gamze Belen, MSc
Dual sales channel management with price competition
Thesis Advisor: Murat Kaya

Sevilay Gökduman, MSc
Dual sales channel management with buyback contracts
Thesis Advisor: Murat Kaya

Caner Hamarat, MSc
Feature weighting algorithm for decision support system of innovation policies
Thesis Advisor: Kemal Kılıç

Nihan Özşamlı, MSc
Feature subset selection problem on microarray data
Thesis Advisor: Uğur Sezerman, Kemal Kılıç

Muhammed Furkan Uzar, MSc
Distribution planning of bulk lubricants at an energy company
Thesis Advisor: Bülent Çatay

Birol Yüceoğlu, MSc
Tactical crew planning at Turkish state railways
Thesis Advisor: Güvenç Şahin

2008
Alp Eren Akçay, MSc
Software frameworks for production scheduling and analytical benchmarking
Thesis Advisor: Gürdal Ertek

Ayfer Başar, MSc
Planning of emergency medical service stations and ambulances
Thesis Advisor: Tonguç Ünlüyurt, Bülent Çatay

Elvin Çoban, MSc
Column generation approaches to a robust airline crew pairing model for managing extra flights
Thesis Advisor: Kerem Bülbül, İlker Birbil

Tamer Doyuran, MSc
Enhancements of Clarke-Wright savings heuristics for the capacitated vehicle routing problem
Thesis Advisor: Bülent Çatay

Umut Kirmit, MSc
Financial correlation networks
Thesis Advisor: Ali Rana Atılgan

Gizem Kömürcü, MSc
Effects of business excellence drivers on firm performance in manufacturing industry
Thesis Advisor: Gündüz Ulusoy

Sergey Drannikov, MSc
RFID-Based manufacturing monitoring and analysis system
Thesis Advisor: Bülent Çatay, Hüsnü Yenigün

Aydın Tanrıverdi, MSc
Testing strategies for k-out-of-n systems under forest type precedence constraints
Thesis Advisor: Tonguç Ünlüyurt

2007
Ersin Demirok, MSc
Vehicle routing problem with simultaneous delivery and pickup and intermediary delivery
Thesis Advisor: Bülent Çatay

Tamer Övütmen, MSc
The multinomial selection problem
Thesis Advisor: Tonguç Ünlüyurt

İlkan Sarıgöl, MSc
A clustering based heuristic for location routing problems
Thesis Advisor: Bülent Çatay

2006
Ayhan Aydın, MSc
Due date quotation in make-to-order systems with lead time sensitive customers
Thesis Advisor: Kerem Bülbül

Cenk Aydın, MSc
Improved rehandling strategies for container retrieval process
Thesis Advisor: Tonguç Ünlüyurt

Nursel Kavlak, MSc
Client-contractor bargaining problem in the context of multi-mode project scheduling with limited resources
Thesis Advisor: Gündüz Ulusoy

Bahar Kaynar, MSc
Application of a general risk management model to portfolio problems with elliptical distributions
Thesis Advisor: İlker Birbil

Güler Kızıleniş, MSc
Optimal sensor locations in water distribution networks
Thesis Advisor: Kemal Kılıç

Duygu Taşkıran, MSc
A revised multiple ant colony system for vehicle routing problems with time windows
Thesis Advisor: Bülent Çatay

Hatice Tekiner, MSc
Robust crew pairing for managing extra flights
Thesis Advisor: İlker Birbil

Taner Lütfi Tunç, MSc
Geometrical Analysis and Optimization of 5-Axis Milling Processes
Thesis Advisor: Erhan Budak

2005
Özlem Bilginer, MSc
Joint inventory and pricing decisions in retail industry
Thesis Advisor: Kemal Kılıç, Kerem Bülbül

Esra Dervişoğlu Toprak, MSc
Fuzzy linear programming: review and implementation
Thesis Advisor: İlker Birbil, Kemal Kılıç

2004
Emrah Çimren, MSc
An Intelligent decision support system for machine tool selection
Thesis Advisor: Bülent Çatay, Erhan Budak

Elif İlke Gökçe, MSc
A Revised ant colony system approach to vehicle routing problems /
Thesis Advisor: Bülent Çatay

Mehmet Kayhan, MSc
Tool wear under dynamic cutting conditions
Thesis Advisor: Erhan Budak

Utku Köktürk, MSc
Optimization of broaching tool design
Thesis Advisor: Erhan Budak

Erhun Ömer Kundakcıoğlu, MSc
Classification via sequential testing
Thesis Advisor: Tonguç Ünlüyurt

Pınar Yılmaz, MSc
Strategic level three-stage production distribution planning with capacity expansion
Thesis Advisor: Bülent Çatay

2003
Serdar Osman Basmacı, MSc
Supply chain collaboration: a case study in textile industry
Thesis Advisor: Bülent Çatay, Dilek Çetindamar

Mehmet Nuri Gökhan, MSc
Production and marketing decisions in a duopolistic market
Thesis Advisor: Gündüz Ulusoy

Şilan Hun, MSc
Algorithms for dynamic forward area allocation in a warehouse
Thesis Advisor: Gürdal Ertek

Bilge İncel, MSc
A model for determining the number of storage blocks and block lengths in a rectangular warehouse
Thesis Advisor: Gürdal Ertek

Murat Kılıç, MSc
Multiobjective genetic algorithm approaches to project scheduling under risk
Thesis Advisor: Gündüz Ulusoy

Evren Burcu Kıvanç, MSc
Modeling statics and dynamics of milling machine components
Thesis Advisor: Erhan Budak

Ekim Özaydın, MSc
Capacitated vehicle routing problem with time windows
Thesis Advisor: Tonguç Ünlüyurt

Murat Hacı Özdemir, MSc
Hierarchical modeling and analysis of container terminal operations
Thesis Advisor: Tonguç Ünlüyurt

Özkan Öztürk, MSc
Modeling of broaching for optimization purposes
Thesis Advisor: Erhan Budak

Arif Volkan Vural, MSc
A GA based meta-heuristic for capacitated vehicle routing problem with simultaneous pick-up and deliveries
Thesis Advisor: Bülent Çatay

2002
Sema Nur Altuğ, MSc
Risk management and post project evaluation processes for research and development projects
Thesis Advisor: Gündüz Ulusoy

Mahmut Çağdaş Arslan, MSc
A Decision support system for machine tool selection
Thesis Advisor: Bülent Çatay, Erhan Budak

İsmail Çapar, MSc
A Supply chain performance measurement system: A Case study in automotive industry
Thesis Advisor: Bülent Çatay

Öykü Oflezer, MSc
Operations reversal: An Investigation of capacitated and uncapacitated models
Thesis Advisor: Tonguç Ünlüyurt, Bülent Çatay

Mustafa Tacettin, MSc
A Polynomial transformation from vertex cover problem to exact inference problem in bayesian belief networks
Thesis Advisor: Tonguç Ünlüyurt

Demet Teker, MSc
An Exploratory study into the manufacturing strategies in the Turkish machine manufacturing industry
Thesis Advisor: Gündüz Ulusoy

7.

Recent Work by Our Students

Writing a thesis is a partial requirement for completing our graduate program. Moreover, all graduate students are encouraged to publish in leading journals of the field.

Here are the recent publications of our graduate students.
8.

Awards

Sabancı University encourages the students and the faculty members to apply for national and international awards. In our university, we have several research and teaching awards given to those graduate students. Our program regularly nominates and strongly supports graduate students for these awards.

In the past, our graduate students received these awards.

Dr Gürsel Sönmez Research Award Recipients
Nurşen Aydın - 2013-2014
İbrahim Muter - 2010-2011
Lütfi Taner Tunç - 2009-2010
Emre Özlü - 2007-2008
FENS Excellence in Teaching Award
Murat Mustafa Tunç, 2013-2014 - (MS 407)
Mahir Umman Yıldırım, 2012-2013 - (ENS 208)
9.

Social Life

Sabancı University campus is at the outskirts of Istanbul. The campus has several restaurants and cafes. The Performing Arts Center hosts professional shows and artists regularly. There are also many very active student clubs. In the campus there are various sports facilities that are easily accessible for the students. The students travel between the campus and the city center with shuttles or public transportation.

In our graduate program, we try to organize outings now and then. Here are a couple pictures from our social life in our program.